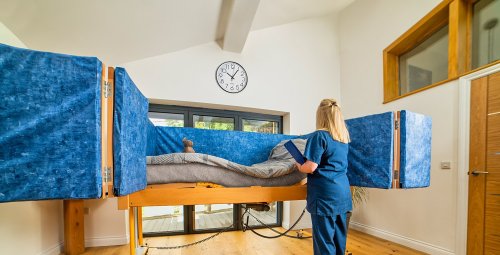 Bespoke cots and care beds hand-built in the UK
The leading UK manufacturer of specialist custom-made beds
The Oswestry Care Bed was first developed 17 years ago and sold through third-party suppliers. As our range of products and services has constantly grown and improved to meet demand, we now sell directly to hospitals, charities and end-users to best meet their needs, from initial consultation to delivery and aftercare. Oswestry Care Beds are there every step of the way.
Our cots and care beds truly are bespoke, created by a team of highly skilled carpenters with over 50 years experience of building medical frames for the NHS and the Spinal Unit of the Robert Jones and Agnes Hunt Hospital in Gobowen. What sets us apart is that our bed bases are not supplied overseas, we build our own. Every detail down to the metalwork is made in our UK workshops meaning that each bed can be made to the exact specification of each customer. This includes shelving and one-off door or padding requirements. Uniquely, we are able to measure-up and make a cot or care bed to fit any size room.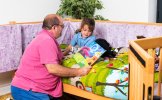 Care beds for private customers
When a child or infirm patient needing a cot or care bed leaves hospital, we are the best possible supplier to meet their needs – they may even have already been using our products without realising it. Ask us for a quote.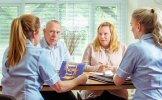 Beds/cots for charity buyers
If you represent a charity looking to provide funding for cots or care beds, we understand that you want the best for your clients – so do we. As Oswestry Standing Frames, we already have a reputation for quality and keen pricing - check us out in healthcare circles.
Fair prices, personal service and quality workmanship guaranteed
As our cots and care beds are produced in-house, we can guarantee the highest standards of workmanship, personal service and end-user comfort – Due to all parts being made here in the UK, we are able to supply replacement parts and fittings without delay. By cutting out the middle man we can ensure fair pricing for all of our customers, providing the specialised bed you need from the makers directly to the customer.
We manufacture the only care bed in the UK that moves from a 20cm step-in height to 80cm when raised – perfect for nurses to work at a comfortable height, and ideal for elderly users to get in and out of. Based in North Wales, we pride ourselves on being a carbon neutral manufacturer. Steamed beech wood is sourced from local FSC sustainable sources and we recycle all our sawdust in order to heat our workshops.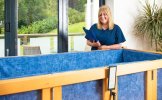 Cots/beds for healthcare buyers
Our standing frames have been prescribed by NHS and other healthcare practitioners for decades, so we are already trusted suppliers that understand procurement processes. Now you can rely on that same strong reputation for the supply of cots and care beds.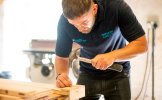 Every bed is hand-made to order
Your cot or care bed will be built to your exact requirements, taking into account your room size, body measurements and specific care requirements. You can choose from a range of optional extras designed with healthcare support and patient independence in mind.
Working in partnership with:

---