The Oswestry Care Bed
All of our standard beds come with lockable doors on one side, a fixed side of solid wood, static bed base and Hi/Lo legs included. With the height of doors starting from 50cm upwards to 120cm and an entry height of 40cm up to a maximum travel height of 80cm. The bed shown left (lowered and raised) is classed as a 'standard bed'.
We will help you to create the specification for a care bed or medical cot that will work best for you in your particular space. Almost anything is possible, including a unique colour scheme.
Please get in touch for more information (call 01691 718218) – and speak to one of our skilled craftsmen today.
Prices from: £2,300 excl. VAT*
depending upon size and extras required
*VAT relief allows chronically sick or disabled people to buy eligible items such as our beds at 0% VAT - click here for more information.
---
Some of the many optional extras available:
Other extras available include:
Hi/Lo legs with low step-in height of 20cm (raisable to 80cm).
Profiling bed base (in three sections, each raisable separately).
The inside measurements can be made to any length, up to 1m wide with a profiling bed base, or up to 1.2m wide with a static bed base.
Doors can be made and fitted to both sides.
A polycarbonate window can be fitted in the head or foot-board.
The frame can be made using any type of wood (beech is used as standard).
Transparent polycarbonate panels can be fitted in the doors.
The wooden frame can painted any colour.
A door safety bar and brackets can be fitted.
A sliding lock can be fitted over the middle doors for extra security.
Padding can be screwed to the frame (velcro fastening is used as standard).
Fabric options: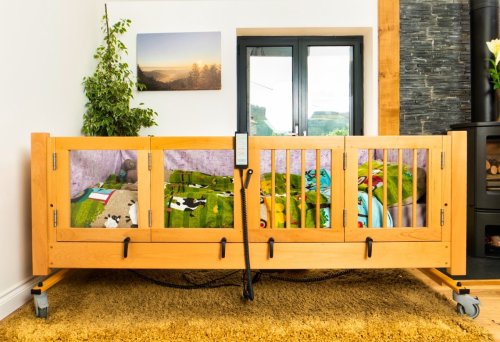 Above (lowered) and below (raised): 180 x 80 x 60cm high frame with a static bed base. The bed shown here includes a mattress and isis lilac padding.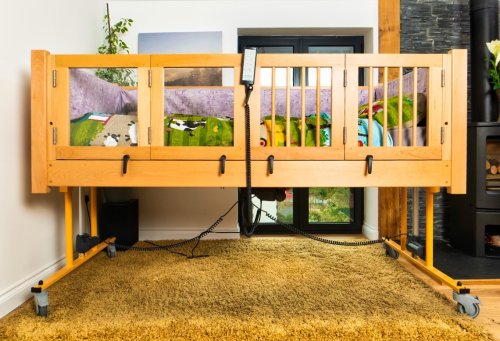 ---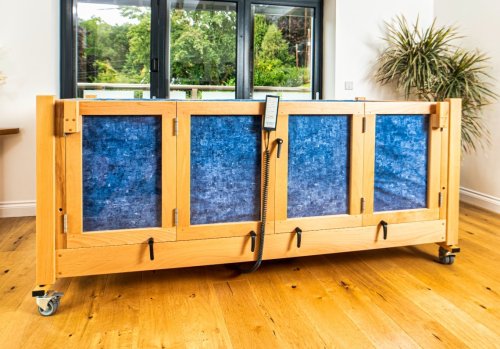 Above (lowered) and below (raised): 180 x 80 x 70cm high frame with head- and foot-board, doors to one side, fixed other side, with low step-in height of 20cm (raisable to 80cm) - with legs included. Extras shown include profiling bed base , padding, safety bar and brackets, and polycarbonate windows in the doors. Thus the total price of the bed shown, with all extras, would be assuming VAT relief is claimed.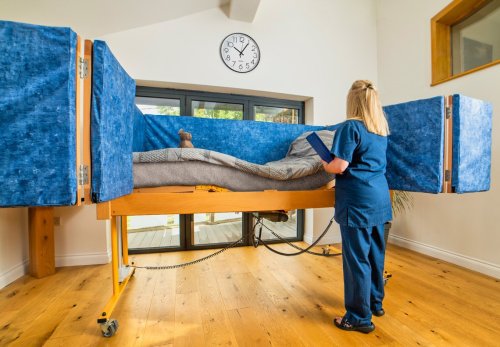 Loading Reviews