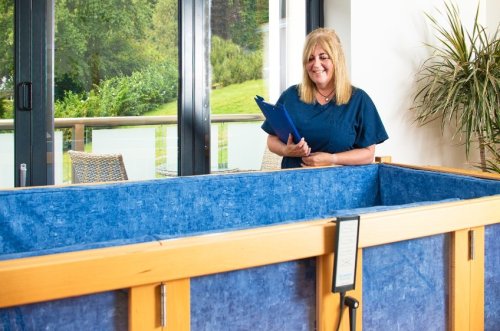 Cots and Care Beds for Healthcare Services
Our care beds and medical cots can be built with a low step-in height of just 20cm, which can then be raised to 80cm or anything in-between. This enables nurses to work at the appropriate height for the patient, and also facilitates easy access for elderly users. Ours is the only care bed on the market with such a low step-in height, which follows on from our 17 years of continual product development.
The bed's full-access doors can be manufactured with perspex window insets, wooden bars or even solid-wood panels – whatever the customer requires. Each door has a sturdy lower catch which locks into the bed's bottom rail when closed, and the two middle doors also have a robust upright lock.
Our standard configuration is to have two double-section doors along one side of the cot, the other side being fixed with either polycarbonate window insets, wooden bars or solid wood. However, as you might have guessed, if the customer requires doors along both sides for easier access, this can be provided (at extra cost) – these are custom-built products after all.
Our bed frames are made from the finest beech wood as standard, but we can use other woods (at extra cost) if preferred - oak, for example. The bed's supporting metal legs are painted yellow as standard, but as with everything else about the bed, any colour legs can be supplied, albeit at an additional cost.
Padding on the inside of the bed can be added, with a choice of blue or pink as standard. These are attached by velcro to the head-board, foot-board, doors and fixed side. For extra strength, the padding can be screwed to the frame of the bed if required, preventing the padding being removed by the patient. See our products page for details of optional padding coverings, as well as some of the extra features available such as lockable handsets, door safety bars and brackets, and thermal castors.
For more information or a sales quotation, please call 01691 718218 or complete and submit the form below
Please note, we always respond to our enquiries within two working days. If you do not receive a response from us, we advise that you check your spam folder - Thank you.